Yellowknife readers and aspiring authors were given a chance to meet their favourite local authors over the weekend.
On Sunday, December 11th, the NorthWords group put together a special Authors Showcase at Yellowknife's new Visitor's Centre, located at the Centre Square Mall. Nine authors were gathered to showcase some of their latest and greatest work, while the public was welcome to come and chat, purchase books, and listen to the authors as they read excerpts.
The authors present were:
1. Lana De Bastiani – Nick The Northern Special (with Megan Cooper) and The Fox and my Boot
2. Megan Wood – The Naidisbo. The Rusalka (coming soon)
3. Amber Henry – Ptarmigan in a Birch Tree, Northern Princess and The Becoming
4. Jessie Wilson – Gabby the Magic Poodle
5. Nikolai Deleff – Bear and Ivory
6. Alison MCreesh – Norths, Two Suitcases and a Stroller around the Circumpolar World.
7. Kody Ferron – Infernal, The Dying Sun Vol. 1, 2 and 3
8. Matt Fournier – the Outlaw Amy Joan
9. Fran Hurcomb – Chasing Fish, Breaking Trail, Old Town, One Lucky Fish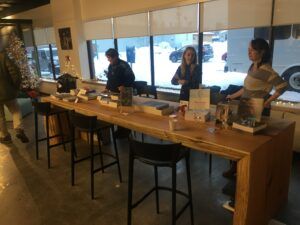 Amber Henry, one of the presenting authors, shared how the event was put together.
"A few months ago, I was at the event at the Explorer Hotel, and Michelle, who runs the Visitor's Centre here asked me if I would like to do an event here, and then we touched base a few weeks later and this was born!"
Henry was there to show off her own book, Ptarmigan in a Birch Tree. She explained that when she started writing it, she wanted to make a more Northern-based parody on the classic Christmas carol, The 12 Days of Christmas.
Henry was also kind enough to share one of the most important lessons she's learned in her time as an author.
"I think for me, connecting to people and building your community is really the best way for me to stay fresh and feel connected, but also to listen. All of my work has been inspired by either reading articles or having conversations with people, and so just having that opportunity to listen and build on other people's ideas gets me excited."
The event ran from 2 to 4pm, and had free hot chocolate available for guests.