Over the weekend, hundreds of Yellowknife residents took part in the CIBC Mud Run for our Lives event.
The day started off rather chilly, but the sun soon came out from behind the clouds to keep the nearly 450 participants as warm as possible. The first team began their run around 9:20 am at the Yellowknife Ski Lodge, with more teams launching every few minutes for next hour and a half.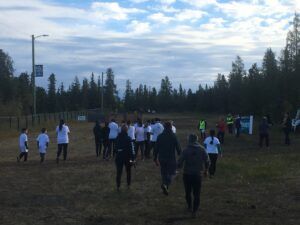 Patty Olexin-Lang, the Lead Organizer of the event, shared her feelings on how the day was going.
"Everybody is having just the best time, the sun's out and shining, and we're here for a great cause. I can't believe how well things are going. We're just so happy that everyone is happy. Everybody's coming through, muddy and smiles on their faces!"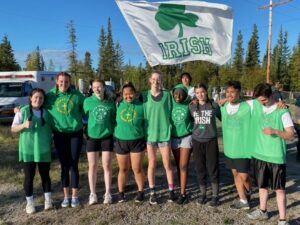 Participants were sent down a long and winding trail that was filled with several obstacles designed to get them as muddy as possible. While some runners were able to make it back to the lodge with mostly clean clothes, others made their return with mud covering them from head to toe.
Regardless of how they fared in the run, most guests were then encouraged to take one last ride down a slide, and into a large pool of watery mud, sure to send their clothes to the wash as soon as possible.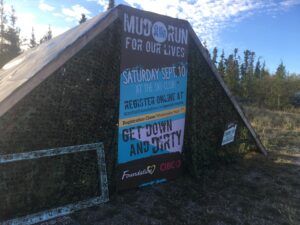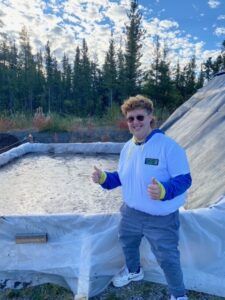 It was a morning filled with many smiling faces, all there to help fight back against a very serious issue, as Patty explains.
"The CIBC Run for our Lives committee, they fundraise for cancer initiatives, equipment, supporting the cancer care unit at Stanton Territorial Hospital. Last year, they donated $126,000 to the cancer unit. We bought some pretty neat pieces of equipment with that. We bought some comfort items for people that are at the chemo unit and having their chemo treatment."
She added that this year's fundraiser is going towards a new digital tomosynthesis machine, which creates a 3-dimensional picture of a breast using x-rays.
A medical team was on site in case anybody got hurt, a food truck kept the crowd fed, and various drinks were available for everyone who needed one.