After being open to the public for nearly a whole year, Yellowknife's Jumpstart Inclusive Playground has finally received a grand opening.
Construction on the 11,00 square foot playground began in June of last year, though an official opening had to be delayed due to an outbreak of COVID-19 cases. The park was funded by Jason and Karen Butorac, the owners of Yellowknife's Canadian Tire store, who said that they noticed the need for such a playground when they first moved to Yellowknife.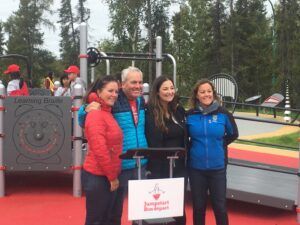 This is the first fully accessible playground in the NWT. It is designed for children and adults of all abilities to enjoy. It features double-wide ramps for people with mobility devices such as wheelchairs, which not only gives them plenty of space to traverse, but also a chance to turn and dodge in a game of tag. A small tower of nets sits near the centre, and is designed in such a way that those in wheelchairs who have a stronger upper body can still pull themselves up without having to worry about relying on their legs as much.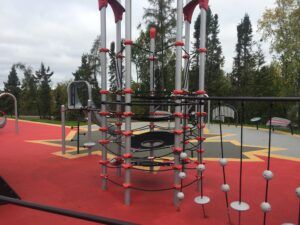 The playground also boasts features for more subtle conditions. Two different boards are set up to help teach Braile and American Sign Language, and a communication board sits at the front of the playground, to help non-verbal children express their feelings and needs to their friends and family. A slide has been built with rollers designed to prevent the build-up of static electricity, which can cause issues in cochlear implants such as hearing aids.
An in-tune music station, a self correcting see-saw, a speed controlled merry-go-round, and a small dome with holes for children to take a moment to calm themselves are among the other attractions.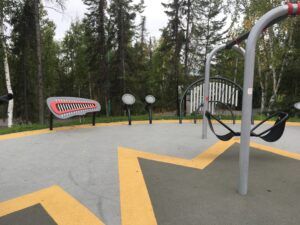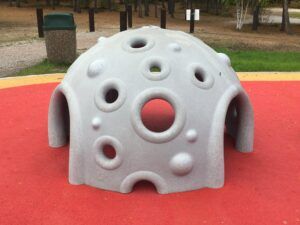 Yellowknife Mayor Rebecca Alty gave her appreciation for all the effort that went in to this wonderful attraction.
"Although children in the community have been benefiting and using this park for the last year, it's so nice that we're able to gather and recognize the work it's taken to get this structure in Yellowknife, and the people who were the driving force behind it.
First off, a huge thank you to Jumpstart, for assisting in establishing this playground and helping make a safe space right in the heart of Yellowknife for all children to play. Thank you to everyone who works to incorporate accessibility into our community, and bring concerns to the forefront. It's crucial to ensure that everyone feels included, and this play structure provides amazing opportunities for kids, adults, seniors, everybody of all abilities to play together."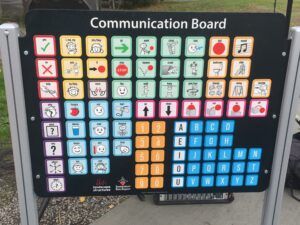 Plans are in place by Jumpstart to build similar playgrounds in other cities across the country.