The Snowking's 2022 Winter Festival is officially open!
While it was a chilly morning out on the northern peak of Great Slave Lake, the sun shone through a cloudless sky as the Snowking himself sawed open the front door of the ice castle, officially opening the structure to everyone. A crowd of hundreds were gathered to witness the opening, and to enjoy the handiwork of every carver who had been working tirelessly to bring the castle to life.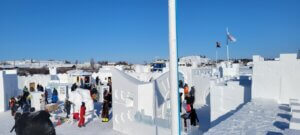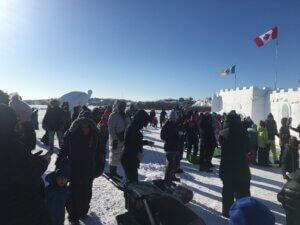 Decorations were carved into every wall, sitting areas were tucked into little hideaways, and picture collages have been placed throughout the castle grounds, each depicting a different year of the Festival's colourful past, as well as pieces of art from local artists.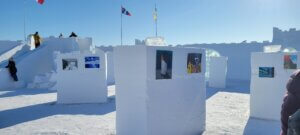 Several slides have been constructed, and are open for all ages to enjoy. A chapel was erected, and stands as the only indoor structure within the castle. Perhaps it will once again hold a winter wedding!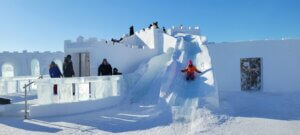 Thanks to support from Yellowknife's MLAs, admission costs for all visitors were completely covered for the opening day. A group of Dene Drummers were also in attendance, helping to inaugurate the new castle with a traditional performance.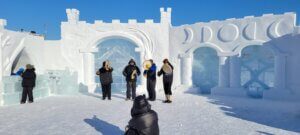 The castle will be open to all until March 27th. throughout the rest of the month, there are several other ways that the Snowking winter Festival can be enjoyed. The famous Reverse Raffle is already underway, and give guests a chance to win a $5,000 jackpot. A snow carving competition will take place from March 5th to the 13th, and each team will have five hours a day to work on their sculpture.
Even after a few rocky setbacks due to the pandemic, it's clear that even after 27 years, the Snowking's Ice Castle is still a staple of the Yellowknife community.