Due to Yellowknife's population compared to other NWT communities, the Health and Social Services Authority (NTHSSA) is offering more COVID-19 vaccine appointments based on a more detailed breakdown of priority groups to ensure residents at highest risk are getting the vaccine first.
As they move through each priority group, the criteria will continue to widen to include more people.
Starting today, additional appointments have opened up until January 28th at the Multiplex DND Gym for the following Yellowknife residents:
People aged 60 and over
People of any age with both high risk of exposure to COVID-19 AND high risk of severe disease from COVID-19 (graphic below)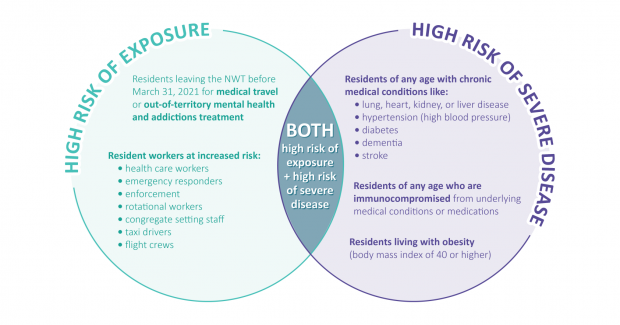 There will be a limited number of appointments in this next round for Yellowknife.
The vaccine shipment that has been received to date is being used as first doses for priority groups. The next two vaccine shipments will be used to deliver second doses to these same priority groups.
The NTHSSA says they are on track to begin offering the vaccine to the general adult population at the end of March, ahead of most of the country.
Appointments can be made online here.