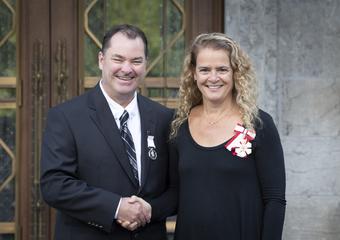 A resident of the Northwest Territories received an award recently for his dedication to the North.
Dr. Brown has worked in education in Nunavut and the Northwest Territories for more than 30 years and is currently serving as superintendent of the South Slave Divisional Education Council (SSDEC).
The SSDEC is one of the Northwest Territories' eight major school boards. The South Slave region consists of the communities of Fort Smith, Hay River, Fort Resolution, K'atlodeeche First Nation Reserve. and the fly-in-only community of Lutsel K'e.
On September 12, in Ottawa, Her Excellency the Right Honourable Julie Payette, Governor General of Canada, presented honours to 40 recipients during a ceremony at Rideau Hall.Dr. Brown was in attendance and was awarded the Polar Medal.
"It is truly an honour to be selected and presented this award," Dr. Brown said. "I was humbled to be in the presence of the Governor-General and the other incredible Canadian honours recipients."
The Polar Medal recognizes those who have contributed to or endeavoured to promote a greater understanding of Canada's northern communities and their people.
Dr. Brown provides overall leadership, direction and management of educational programs and services in the division.
"I am focused on establishing and implementing a shared vision for the education system that is supportive of the aspirations of the communities while ensuring that students within the division receive a quality education," Dr. Brown said. "I act as a catalyst for change by empowering people to take a role in the development and leadership of the school system."
Dr. Brown has specific responsibilities as superintendent of the SSDEC such as; recommendations and support to the Council and locally-elected District Education Authorities (DEAs). Implementing decisions, policies and motions of Council while coordinating and facilitating the growth and development of the Council, District Education Authorities and employees.
"I supervise the management of all financial matters, facilities, administrative and computer systems and ensure the division meets all statutory requirements under GNWT legislation," Dr. Brown said. " I also manage and direct delivery of JK-12 curriculum, programs and services within the division."
Dr. Brown also looks after the hiring process and ensuring the supervision of all staff within the division and managing all disciplinary measures up to and including dismissal.
"I develop and maintain positive and effective relations with internal and external partners including staff, students, parents, local and regional boards and agencies, the media, members of the public, local governments, and Government Departments," Dr. Brown said. "My current priorities include literacy, numeracy and social responsibility. While my secondary priorities include: indigenizing education; professional learning communities; community education planning; building leadership capacity; and collaborative program and staff development."
As an advocate for alternative programming and expanded opportunities for students, Dr. Brown has contributed to above-average student outcomes, notably through the SSDEC's award-winning Leadership 4 Literacy initiative. Dr. Brown's efforts have stimulated the revitalization of local Indigenous languages and their use in schools and in the broader community.
twitter.com/artcgreen