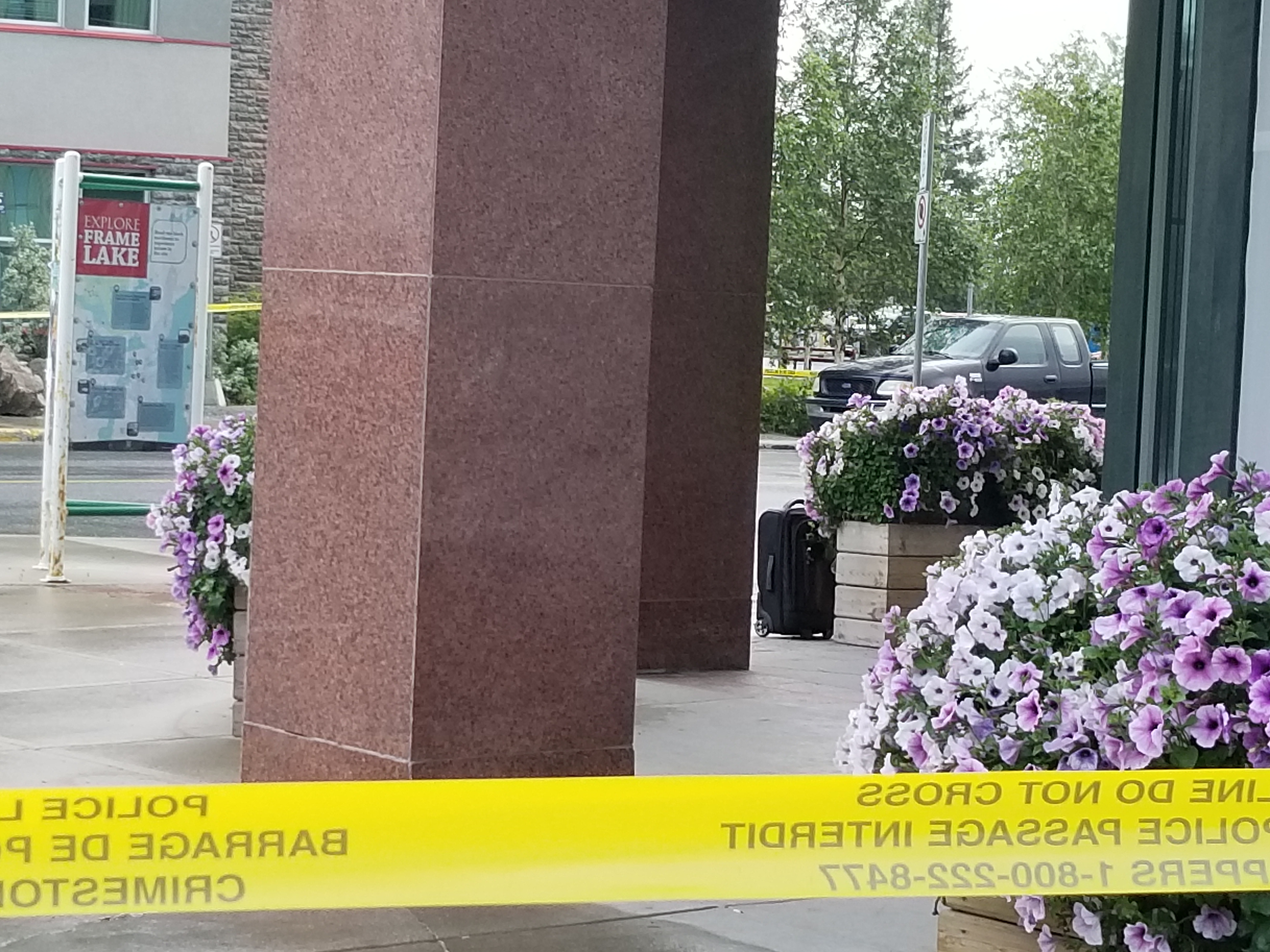 The surrounding area outside of the Northwestel building on Franklin Avenue and 52nd Street in Yellowknife was cordoned off by members of the RCMP for over an hour on the morning of Tuesday, July 30th due to a small black suitcase that was left outside the building.
The suitcase which was described as suspicious, appeared to be empty, said Const. Heather Cosenzo of the RCMP. Police cordoned off the area downtown at around 10 a.m after being alerted about the suitcase by the public. Members walking around downtown were told not to trespass the cordoned off area as the investigation was ongoing.
The situation was initially described to Moose FM as being a "suspicious incident" but after clearing the building an going through video evidence, Cosenzo stated that "the evidence led us to believe that by coincidence, the suitcase was just left there."
An officer came to the scene at around 11:15 a.m. and studied the suitcase before picking it up and placing it in the back of a truck. Once the suitcase was deemed to be a non-threat the area was no longer cordoned off.
At approximately 9:30 am, before the report about the suitcase, Yellowknife RCMP received a report of a suspicious box in the industrial area of McMillan Street, off Old Airport Road.
The box was left behind at the facility, by someone who is believed to have said that the box may have contained an explosive device. Police attended the scene, evacuated the facility and requested the assistance of the Alberta RCMP Explosive Disposal Unit. The investigation concluded the box was non-suspicious.
RCMP say the investigation showed that the comment did not appear to have been made with intent but a comment of that nature had to be taken seriously.
Inspector Alexandre Laporte, Yellowknife RCMP Detachment Commander stated that at this time, the investigations do not support a link between the two incidents.
"The areas were contained immediately by RCMP officers and the City of Yellowknife MED. We take these reports very seriously and we ensured a full and thorough investigation. We appreciate the patience and understanding of the public while facing disruptions in these areas."