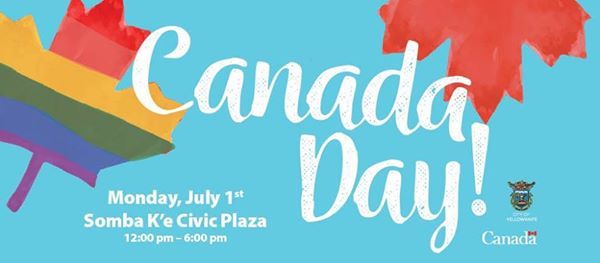 Update: The City of Yellowknife is advising residents that due to tomorrow's weather forecast the Canada Day celebrations will take place in the Ed Jeske Arena inside the Multiplex, from 12 noon to 6 p.m. on July 1st instead of at the Somba K'e Civic Plaza as was originally planned.
The annual, free to attend event will have live music, food vendors and family-friendly activities. The celebrations have been a longstanding tradition in Yellowknife that brings the entire community together.
The artists that will be performing at the event are:
Yellowknives Dene Drummers during the Opening Ceremonies from 12:15 p.m. – 1:00 p.m.,
Digawolf from 1:00 p.m. – 1:45 p.m.,
Southern Cameroon Cultural Association Dance from 2:00 p.m. – 2:15 p.m.,
Johnny Cole from 2:30 p.m. – 3:00 p.m.
Bella Beats from 3:10 p.m. – 3:30 p.m.,
Wesley Hardisty from 3:45 p.m. – 4:15 p.m.,
Flora and the Fireweed from 4:30 p.m. – 5:00 p.m., and
Welders Daughter from 5:15 p.m. – 6:00 p.m.
Food Trucks and Vendors for the event will include Mini Donuts, Big Guy Fries, Fish on the Bay, Authentic Viet, Saffron, One of a Thai, Booster Juice, MACCY Services, Chingon Tacos and L'atelier
Canada Day will also feature activities for kids such as Table Tennis, face painting, bouncy castles, balloon art, NWT Literacy Council, Makerspace YK and cake cutting that will be around 2:15.
"Enjoying Canada Day together as a community, in the beautiful Somba K'e Civic Plaza, is a wonderful way to celebrate our vibrant and multicultural city," said Yellowknife Mayor, Rebecca Alty.
Also offered this year will be the Blanket Exercise, an activity that teaches the history of Indigenous people on Turtle Island during 500 years of colonialism. This is an interactive, hour-long activity followed by a dialogue on the experience. The Blanket Exercise will be held at 9 a.m. in the lobby of City Hall, is free to the public and is by registration only.
For more information on events, the Blanket Exercise registration details or volunteer information visit www.yellowknife.ca/canadaday.
In Hay River, there will be a Float line-up in front of Keith's Water Service on the service road at 10:00 a.m. followed by a parade along Woodland Drive, ending on Courtoreille Street at 10:30 a.m. A Flag Raising with Oh Canada performed by Lyca Bergen at the Emergency Services Building at 11:00 a.m. followed by free BBQ, live entertainment, vendor tables, & kids activities from 11:30 p.m. – 2:00 p.m.
To enter a float in the parade or to book a vendor table, contact the Recreation Centre Customer Service Desk in person or over the phone at 874-6500.