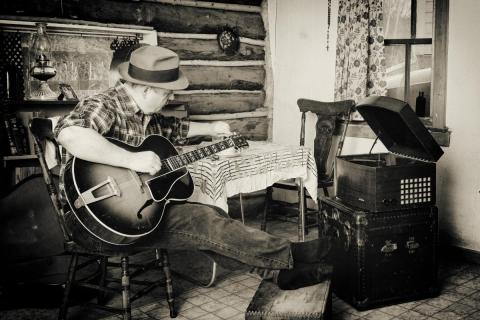 Two local talents will perform on the Northern Arts and Cultural Centre's Yellowknife stage this weekend.
Friday Brian Weadick, 'Baby Brian', will perform original folk and country ballads on guitar Friday, May 24th at 7:30 p.m. Described as a 'honey dipped croonin' drawl' Weadick's vocals will soon be heard on his forthcoming debut record 'Talk with the Honky Tonk Psychiatrist.'
Saturday, May 25th at 7:30 p.m. Norm Glowach, seen on stage with Priscilla's Revenge, will take on the persona of Johnny Cole in a musical based on his family history. 'Meet me at the Rex' tells the stories of Cole a.k.a. Glowach' ancestors and their journey to Canada and to Yellowknife, where they settled in 1940.
The two events are part of the NACC's Northern Scene Series, which has previously showcased NWT talents including Sahtu's Crook the Kid and MIRAJ (Harrison Roberts a.k.a. DJ Flora and Sami Blanco a.k.a. Temple Volant).
READ MORE: Locals only: Sahtu artist brings new album to NACC stage