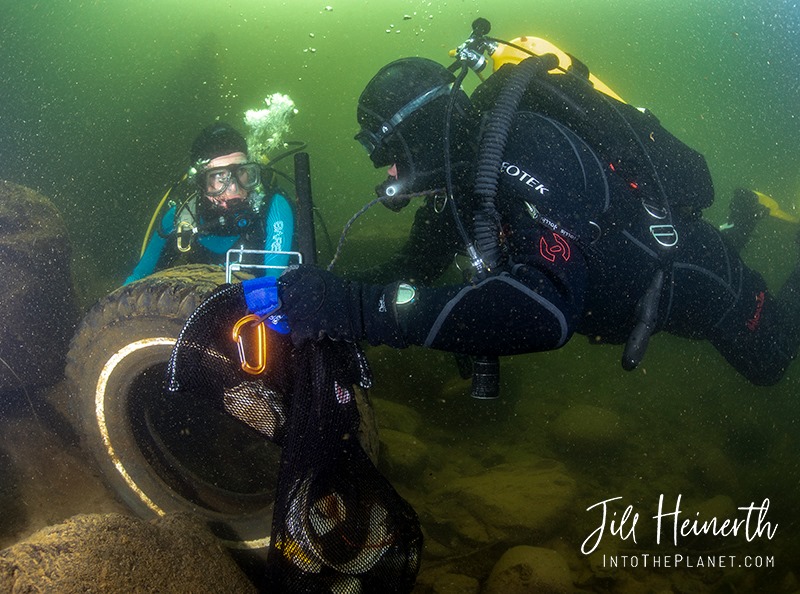 A made-in-the-North diving show is heading to Hay River this summer and the show's creator wants residents to get in touch with stories about what might be lost or missing in local waters.
Creator of Sh*t I Found Diving in YK Jeremy MacDonald says he already has some ideas of where to search while he's there. Diving in heavy use areas could yield lost cell phones and other valuables. "It's been so amazing the different kind of things we've found up here – we've found gold necklaces, wedding rings, the cell phones are always fun, we've found some firearms, you name it."
Sunken World War II equipment is another find MacDonald hopes to make. The equipment, which was destined for the Canol Trail, sunk somewhere between Hay River and Fort Resolution. It includes Cat 9 Dozers, which weigh several tons. Another adventurer found some of these items in the 1960s and MacDonald hopes to continue this quest.
"So we're following in somebody else's footsteps to pick up the story where he left it off," says MacDonald, who is unit adjutant at Joint Task Force North headquarters. "It's a fantastic tie in, just the history of what the military has done in the North, the stuff during World War II. We focus on what everyone did overseas, but there was a lot going on on the domestic side too…to support the war effort and that absolutely would have been one of them."
The trip to Hay River is part of a longer-term idea for the show MacDonald says. "To get to a number of different communities throughout the North, and focus not just on scuba diving but the beauty of the North and what each community has and some of the histories and secrets in the water."
MacDonald and his and crew are filming five episodes this summer. In addition to Hay River, the show will go on a search for a sunken trawler outside of Yellowknife Bay, possibly head back to Hidden Lake to search for gold and tag along as the crew does their summer cleanup dives.
To connect with MacDonald about any sunken treasures in the Hay River area, email [email protected]
The dive crew is also looking for volunteers for their summer clean-up dives in the Yellowknife area. They are looking for people who wants to volunteer to dive, support from the shore, drive boats and help in other ways.