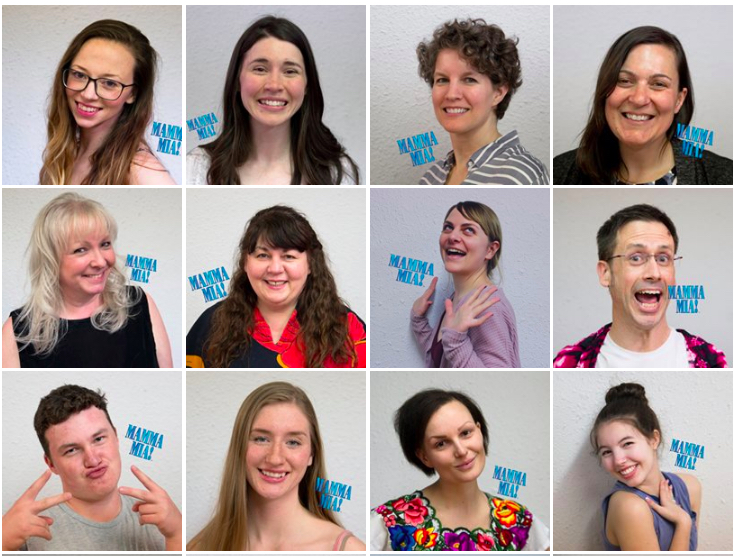 A newbie to musicals – Karen Novak – and a veteran of the Ptarmigan Ptheatrics stage – Ray Bethke – will join forces to bring the community theatre's latest production to the NACC stage this week.
Novak and Bethke, who play lovers Donna and Sam in Mamma Mia!, agree that this is more of a musical than either of them had imagined.
"It's been quite an adventure and I had no idea what was involved, really. I just sort of jumped in here. And this is a bucket list thing for me, it's been something I've been wanting to do for a while. And it's a good role for me at my age," Novak says, who is well-known to many Yellowknifers as the front-woman of Welders Daughter.
"It's not a small start," Bethke chimes in.
"You might as well jump in and go for the biggest and the best. It's been quite a learning experience for me, but I've enjoyed every second of it. I can't believe the new techniques that I've learned as far as singing goes and dancing," Novak says.
The entire cast and crew have been pulling long days this past week and over the past months to get ready for the show's eight-day run. Many of the chorus are working as hard as the principals Befke says, in what he says is an intense musical experience. The show has 18 musical numbers, compared to the four or five in your average musical. And over 50 per cent of the cast are new to this performing art Bethke says.
"For the full cast, the major commitment is just extraordinary. Because it's not just the songs: It's the movement and then it's the stage craft of getting in and out, moving set around. So it's been a fairly daunting task compared to shows we've done in the past."
The show ends with three songs back to back. "It becomes a full ABBA concert at the end, with disco outfits and the whole ten yards," Bethke says, who admits he's learning a lot about the band as they've never been a part of his everyday playlist. Novak says she is now dreaming ABBA and it's given her a new appreciation for the lyrics and storytelling in the hits.
The very big musical is also drawing a large crowd, over 70 per cent of tickets have sold as of April 18th. Many of those who come out are likely new to musicals, the actors say, as the ABBA name and the fame of this particular musical brings out new fans of the genre.
"I hope that they enjoy it as much, watching it, as what we are performing it," Novak says. "And I have a feeling they should pick up two tickets. Because you're going to want to watch it one time and then you're going to want to come back and see what you've missed because there's so much going on."
Mamma Mia! runs April 25th to 28th, and May 1st to 4th at NACC.