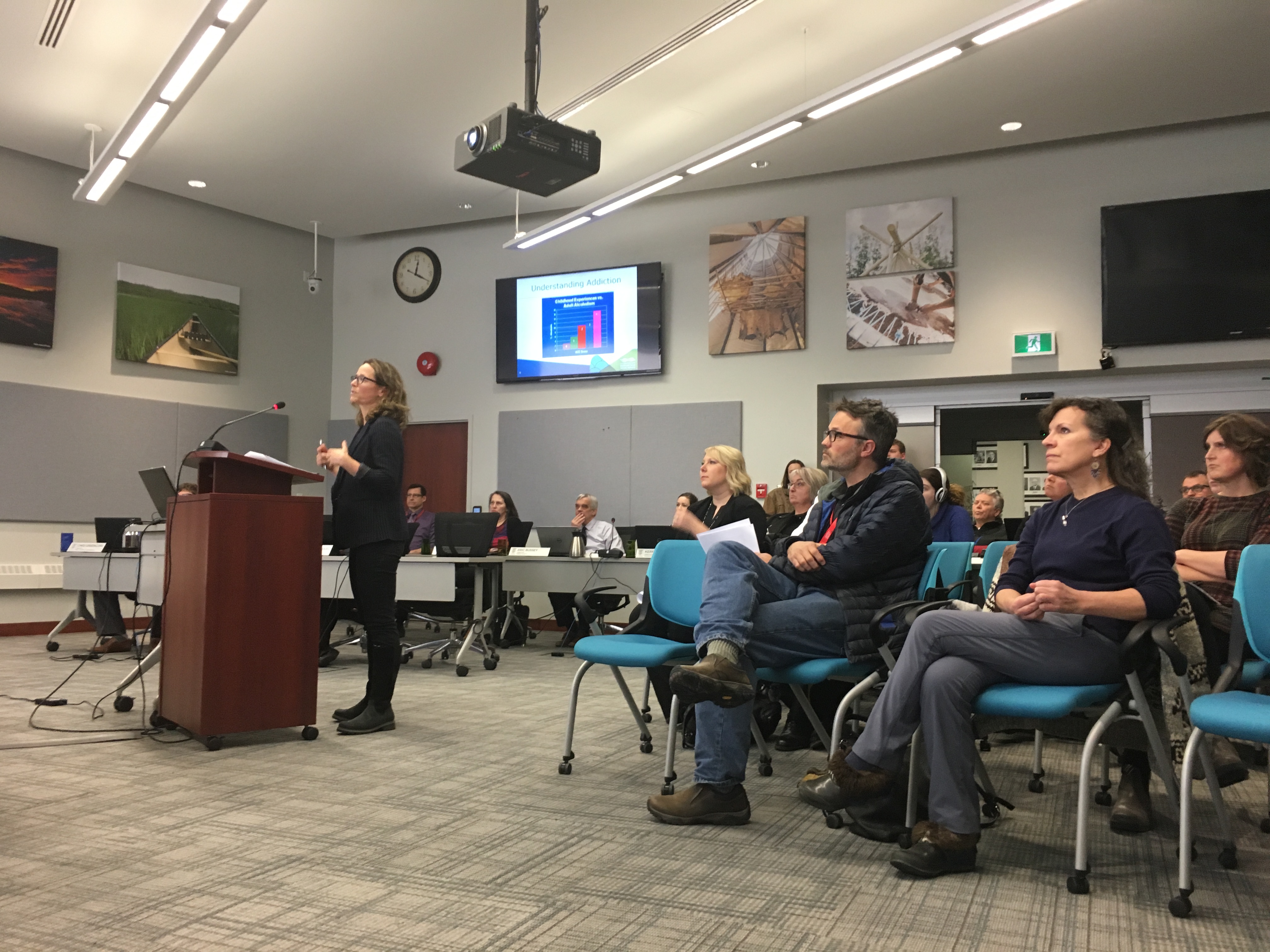 Six months since the joint day shelter and sobering centre opened its doors in downtown Yellowknife, Denise McKee says the space is keeping people alive.
McKee is executive director of the NWT Disabilities Council, who operates the space at 5111 50th St. She says the space has had over 57,000 visits to the day shelter in the past four months and 11,000 users of the sobering centre in six months.
The presentation comes two weeks after April Desjarlais, owner of an adjacent building, told council about the levels of intoxication and violence she was seeing daily through security footage and her own observations. She called the space a 'failed model,' and asked council for action on the issue, taking into account the issues facing downtown business owners.
READ MORE: Day shelter is a 'failed model': Yk building owner
Director of child, family and community wellness at the health department Nathalie Nadeau says there are plans to finalize a 'good neighbour agreement' which will outline the responsibilities of the program to its neighbours. At this point, the agreement has not yet been drafted. She also mentioned the possibility of a security guard as 'an option' to present to neighbours when they meet.
When challenged by councillor Niels Konge to relocate their offices downtown, Nadeau said she would be 'more than willing' to base some of her work out of buildings such as Desjarlais', in partnership with the city.
Doctors Jennifer Harris and David Pontin, Yellowknife's fire chief John Fredericks and the RCMP's detachment commander Insp. Alex Laporte told council how the operation of the program had reduced the demand on their services.
Pontin, territorial clinical lead of emergency services and emergency room physician, told council when he arrived in 2006 there would be people sleeping off the effects of alcohol and other substances in the hallways of Stanton Territorial Hospital. He says there has been a 28 per cent reduction in hospital visits due to alcohol abuse.
The amount of ambulance calls for alcohol abuse has also gone down 35 per cent and the RCMP has seen a 21 per cent reduction in calls for social disorders.
Dr. Harris, territorial addictions expert sobering, told council the centre is all about 'meeting people where they're at, at that moment." The harm reduction model, she says, is about reducing consequences and risks of substance abuse without asking people to abstain.
The council meeting will continue shortly. More to follow.