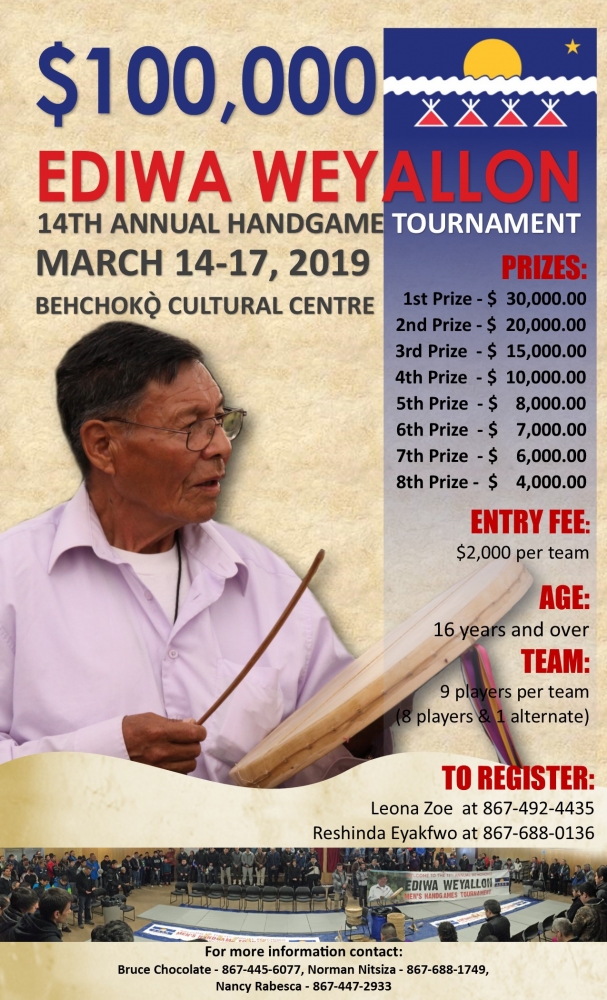 Handgames is about to take over Behchoko. The Ediwa Weyallon 14th annual Handgame Tournament in Behchoko is taking place from March 14th-17th at the Behchoko Cultural Centre. A total of $100,000 worth of prizes will be awarded to teams in the tournament this year.
The 9-player teams (8 players, 1 alternate) are all 16 years old or older. Each team has payed $2000 to play and 8 will be going home with prize money.
1st Prize – $30,000
2nd Prize – $20,000
3rd Prize – $15,000
4th Prize – $10,000
5th Prize – $8,000
6th Prize – $7,000
7th Prize – $6,000
8th Prize – $4,000
GNWT has warned the public that the tournament will cause heavy traffic on Mcakenzie Valley Winter Road during the week.
There will be increased traffic along the #MackenzieValley winter road system over the next few days due to hand games tournament in #Behchoko. Drive cautiously as not all vehicles will have radios, reduce your speed, keep right around corners, and use all call out locations.

— GNWT/GTNO Infrastructure (@GNWT_INF) March 8, 2019
This won't be the only handgame tournament in NWT communities in the coming week. Gameti will also be holding their John D Quitte Handgame Tournament from March 8th-10th. This tournament will be for kids 15yrs or younger and will be held at the Community Hall.