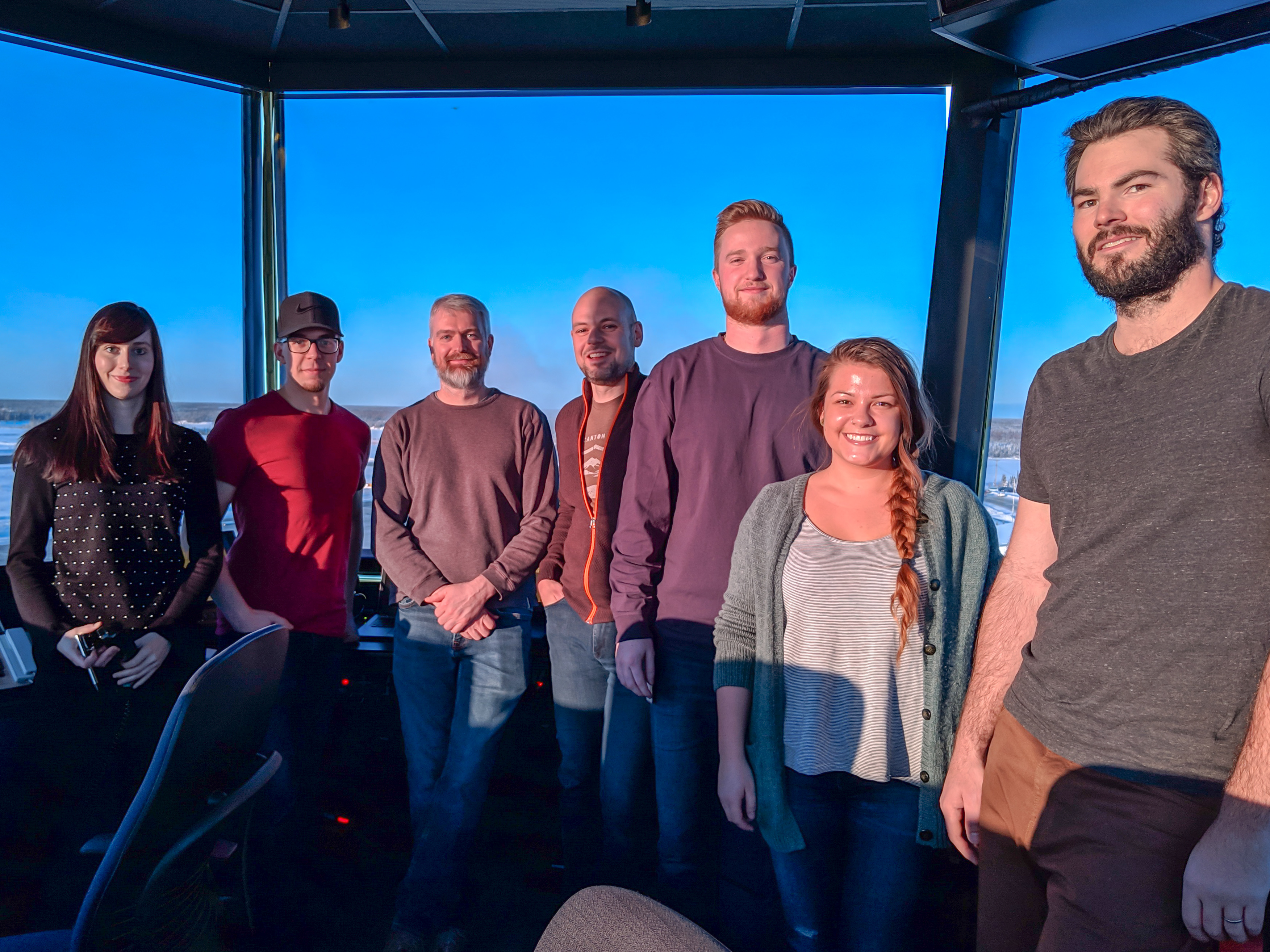 What do air traffic controllers in Yellowknife, pizza and the U.S. government shutdown have in common?
The three came together last week as local air traffic controllers joined a movement of pizza goodwill in support of their U.S. counterparts facing no pay during the ongoing shutdown.
Air traffic controllers at the Yellowknife airport footed the bill for a pizza lunch for a Juneau, Alaska controller team Saturday.
One of the Yellowknife controllers and a local chair of the traffic controllers union Mark Hilman says he first heard of Edmonton controllers buying pizzas for their colleagues in Anchorage, Alaska.
"From there the word of mouth spread and it kind of caught on as a way that we can prop up the morale of our colleagues south of the border."
A colleague of Hilman's suggested Juneau as a good fit, as it is another capital and has a traffic control tower roughly the size of Yellowknife's: Juneau has 14 members, and Yellowknife has 11. All YZF controllers were on board with sending $300 of union funds to Dominoes in Juneau. He isn't sure how many pizzas it bought the team there.
The Yellowknife pizza delivery came just in time. Hilman says the controllers knew they wouldn't be getting paid, but it became even more real that day.
"That was pretty close to the day where they were getting online to see their actual paystub information and it was showing zeros," he says. "Morale was pretty low at the time and they were pretty appreciative of getting something that recognized that they were going through this tough time."
Hilman added he knows the Juneau tower has one member who just started training with the team and faces increased hardships to make ends meet.
Professionals in the traffic control industry are a tight-knit group says Hilman.
"Similar with any occupation, where you've got some highly skilled people, you end up forming a camaraderie with other people even if it's not your own country."
Shamus Gordon, local site manager for Nav Canada, calls the pizza solidarity a 'total grassroots initiative'.
"It's coming right from the controllers themselves that said 'Hey, those are our brothers and sisters that aren't receiving a paycheque so what can we do to show some solidarity?' And that's what they came up with."
So far pizza has been sent from among others Edmonton to Anchorage, Vancouver to Portland and a joint effort by Moncton, New Brunswick and Gander, Newfoundland to New York state. Buffalo Airport even received a delivery of chicken wings with their pizza, from a Toronto control tower.
Pizza & Wings for Buffalo Airport #AirTrafficControllers. NavCanada Hamilton tower sending pizza while Toronto tower is flying down chicken wings. They departed this afternoon from Burlington Executive Airport. #GovernmentShutdown #ShutdownStories @CATCA5454 pic.twitter.com/gr2jR6miFU

— Tom Podolec Aviation (@TomPodolec) January 16, 2019
A flying slice of 'za from Vancouver, BC (YVR) to Portland, OR (PDX)

****

Pizza volante de Vancouver à Portland!https://t.co/0miCsapY2j pic.twitter.com/08fueATRbx

— CATCA (@CATCA5454) January 15, 2019
More to follow.