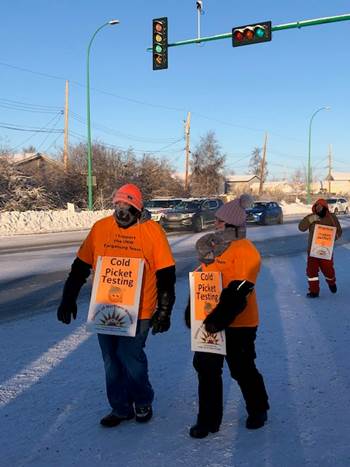 Over 80 Union of Northern Workers members and supporters stood outside in -35 temperatures at the North Slave Correctional Complex around noon today to show solidarity with public service employees who have been working without a contract for over two years.
Today's pop-up practice picket was organized by members of Locals 9 (Dept. of Justice) and Local 11 (Stanton Hospital) along with other members of the UNW. This is the 2nd pop-up practice picket in support of the workers.
The UNW stated in a press release that while they've been working hard at the negotiating table to try and find middle ground and avoid a strike, today's display of solidarity demonstrates that public service workers are determined to get a fair deal and are ready to take to the picket lines, if necessary no matter the temperature.
Currently, over 4,500 members of the UNW employed with the NTPC, GNWT and Hay River Health and Social Services have been working without a Collective Agreement since 2015 and 2016, respectively.
Several major issues remain, including job security and the government's increasing use of temporary, relief or casual workers.
UNW president Todd Parsons noted last month that NTPC employees work around the clock with the responsibility of keeping the lights on in the NWT.
"Power Corp and public service employees work hard every day to deliver vital services people rely on and are only asking to be treated fairly with stable jobs that allow them to stay in the NWT. We aren't just fighting for today's workers and their families, but also for the next generation of Northern workers."
Mediation between the GNWT and UNW is scheduled to resume sometime in February, however talks with respect to NTPC and Hay River Health and Social Services have stalled at the present time.