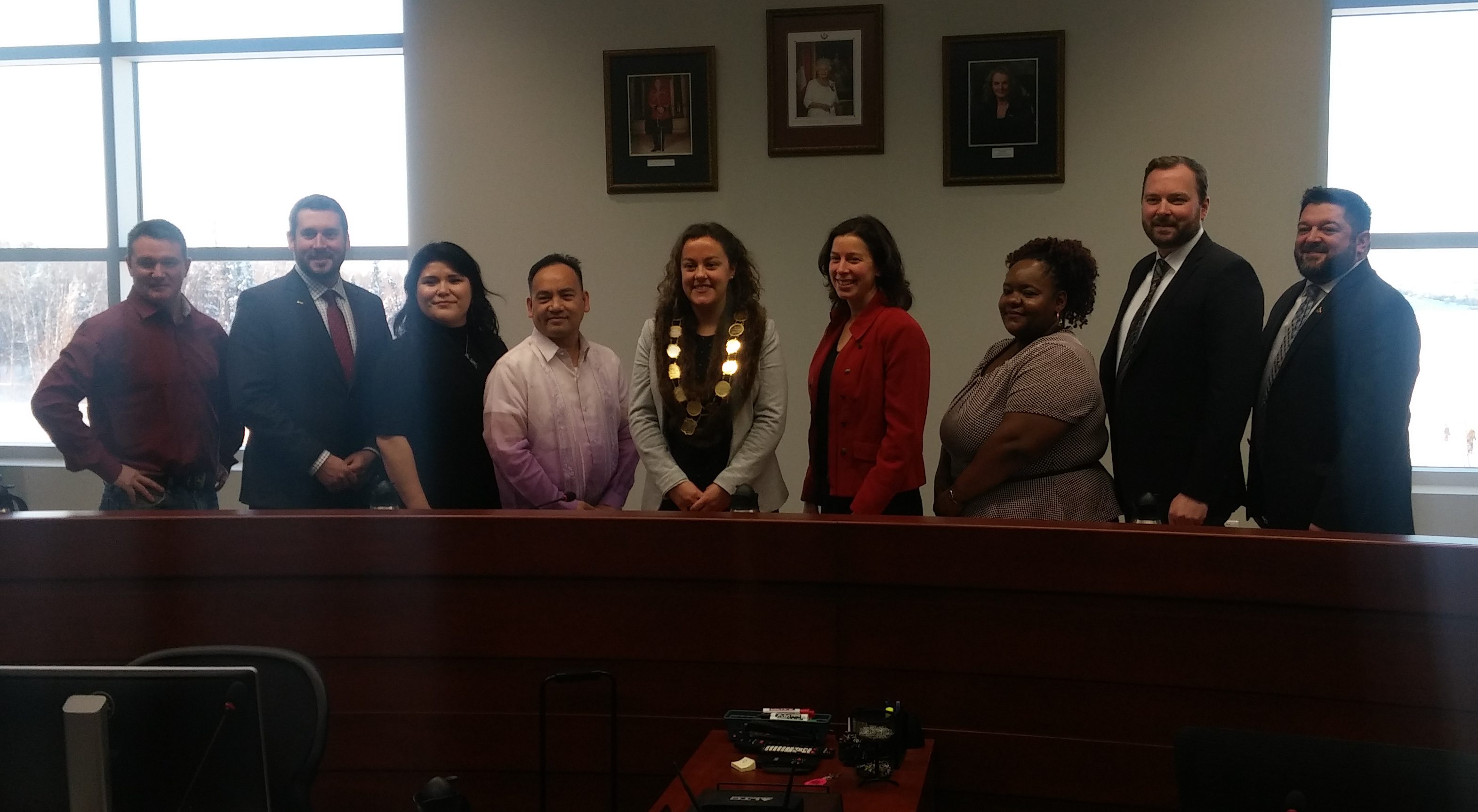 The City of Yellowknife has a new council. Mayor Rebecca Alty and all eight council members were sworn into their positions on Monday, November 5th for the next four years. The ceremony included community officials, members of the Dene nation, previous mayor Mark Heyck and a full crowd of friends, family and residents. The new council of  Steve Payne, Stacie Smith, Julian Morse, Shauna Morgan, Robin Williams, Niels Konge, Cynthia Mufandaedza and Rommel Silverio along with Mayor Rebecca Alty went right to work immediately after with a meeting on the 2019 budget following the swearing ceremony.
New Mayor Rebecca Alty says she is looking forward to working with the new council. She says the past three orientations has been full of passion by the council members, new and old and a big reason is the diversity.
"Great diversity and passion, some people who are very focused on the environment and arts and business so I think we've got a great range there. We've got gender, all sorts of kinds of diversity. And I would actually say it's probably one of the most family friendly councils. We've got the most councillors with young families, so that will be different than most councils."
Councillor Robin Williams wants to see the council and Mayor work well together. Step one for him to to foster a good working relationship for council and the 2019 budget talks is a great way to work on that. As a new member of the council he is excited for the opportunity.
"First of excitement, and then you're humbled by the chambers, the role, the history of it all. We also did three week orientation with city staff so there's also a little bit of overwhelmed with the amount of material that's out there, but it's really great. The City's done a really great job with bringing us up to speed with the issues of the day and their hopes with what we're going to get accomplished over the next four years."
Councillor Stacie Smith was also excited to be on council. She is looking at the committees as a great way for her to begin her work for Yellowknife.
"Right now we're going to be situated onto different committees, and right now the one that I really want to work with is C.A.B., Community Advisory Board for Homelessness. Those issues that kind of intermingle with it, in terms of addictions, abuse, all those kinds of stuff, I want to deal with it."
Cynthia Mufandaedza is another of the three new council members this new term. She added to the excitement of her colleagues but reminds herself that she is a councillor for the people, so her first step is to talk to residents to focus her time on what they want.
"Well you know what, one of the first things is probably talking back to the constituency and seeing what they want to see. That's going to be my priority is sorting through what I hear."
With the mayor and council now sworn in, they will begin their work in their four year term. This will be the first council to work for a four year term for the City of Yellowknife.