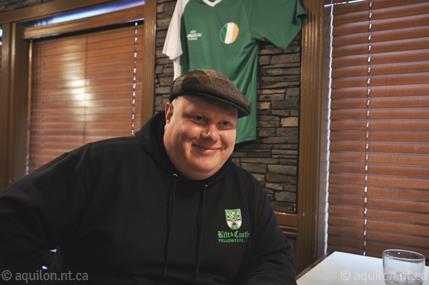 A local business owner is eyeing the mayor seat. Bob Stewart wants to help the city that he was born and grew up in. Stewart's resume includes a degree in political science from McMaster University, being an auditor and an accountant throughout the Northwest Territories, senior Financial analyst with GNWT, ENR and ITI, financial planning and budget analyst for the Department of Transportation and now the owner of the Kilt and Castle.
Stewart says the nine years since he moved back to Northwest Territories after getting his education, he has noticed a constant decline of downtown and that is why he has decided to run.
"One of the major problems is that the politicians getting into power are not qualified to be making the economic decisions. So I thought because I am eminently qualified for the position that I was the best person for the job and I should run."
Stewart says his focus is on the ten year plan to end homelessness. He plans to go talk to the federal government to restructure the plan.
"It's been running now for just over a year and there's a couple of good things that the people are trying to do, but unfortunately the funding agreement that came along with it only came with a small operating budget."
He also plans to build a community center for the homeless that will hold the sobering center, low income programs and residences. Another change he would like to make is garbage pick up from two times a month to three and compost pick up to one time a month.
Stewart says his qualifications is the difference between himself and the other candidates, and his experience makes him the right fit as mayor of Yellowknife.