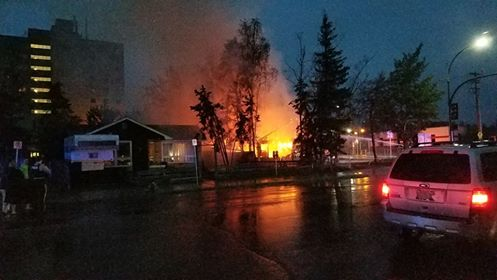 Just before 1 a.m. on Monday, the City of Yellowknife Fire Division (YKFD) received a report of smoke coming from an abandoned structure at the corner of Franklin Avenue and 53rd Street.
Terri Lynn Rice and Andrew Diveky were the first ones on the scene.
The couple were on their way home on Monday night when they spotted the blaze,
"My girlfriend was the one that called the fire department," said Diverky. We were just driving home and it was almost one in the morning and I saw this big black cloud and I was like, what the heck is that? And it tooks me a few seconds and I was like, holy crap it's a fire! I started honking the horn and drove up to the neighbours and got them out of their house as well," Diverky said.
"It was crazy," said Rice. "We didn't really know what to think at first."
"As soon as we pulled into 53rd street it was fully engulfed in flames, really hot. It was a good thing the neighbours house didn't catch fire, it was so close," Rice said.
Diverky said he helped the man living in the house beside the fire hose down the side of his house so it wouldn't catch fire.
"We could feel the heat from across the street," said Diverky.
"It was so hot, the flames were like thirty, forty feet high."
By the time the fire department arrived, the fire had already breached the roof of the structure.
An exterior attack was initiated to suppress the fire and protect exposures.    The fire was extinguished shortly after arrival on scene.
RCMP assisted with traffic control.  In total, 15 personnel and 4 fire division apparatus' attended the scene (2 Engines, Rescue and an ambulance).
The cause of the fire is under investigation by the Office of the Fire Marshal, and has been deemed "highly suspicious".