The territory's Department of Transportation has committed to improving its communications strategy in the event of serious vehicular accidents.
RELATED: Ingraham Trail reopens following fuel tanker fire
RELATED: Highway 3 reopens after truck overturns on the road
The promise was made by Transportation Minister Wally Schumann on Monday in the wake of another truck fire over the weekend.
This time, the Ingraham Trail was closed to traffic for over an hour after the cab of a haul track caught fire near the Yellowknife River bridge.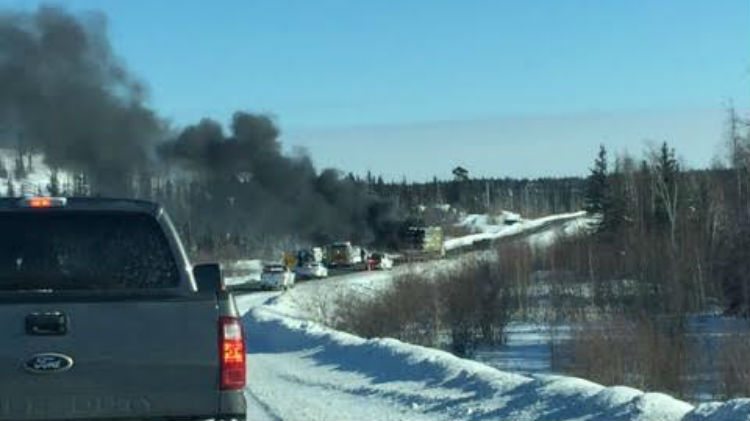 The incident was the fifth involving a haul truck in the past couple weeks in the Yellowknife area.
Schumann made the commitment after being pressed by Yellowknife North MLA Cory Vanthuyne in the legislature.
"When this many incidents occur involving trucks on our roads, it raises questions of public safety," Vanthuyne said.
"The Ingraham Trail is used not only by truckers. Residents of Dettah, people who live further down the trail, and people who travel for aurora viewing, recreation, or hunting are also regular users of the trail.
"For these people, in case of emergency, the trail is their only way in or out, and their only access to assistance."
Prior to Saturday's incident, two other trucks had caught fire, another rolled over and another went off the road in the Yellowknife area within a span of two weeks.
Thankfully, Vanthuyne said, no injuries were reported in any of the incidents.
"We need a broader communication planning session'
On Monday, Schumann confirmed that his department has met with representatives from the Tibbitt to Contwoyto winter road to discuss the 'unusual' number of incidents involving trucks recently.
RELATED: Pedestrians, cyclists at risk along Highway 4, cautions MLA
The winter road, which serves the territory's diamond mines, is a joint venture between Dominion Diamond Corporation, Rio Tinto and De Beers.
Hundreds of large commercial vehicles make the trip up Highway 3, the Ingraham Trail and the winter road every season delivering fuel and goods to the Ekati, Diavik and Gahcho Kué diamond mines.
"The department and the winter road joint venture have actually had a meeting about the concerns of the events that have taken place over the last couple of weeks," Schumann told MLAs.
"[The joint venture] is talking to the commercial carriers that are involved in this and seeing if there is something that needs to change or something that needs to be put in place to mitigate these measures.
"The number of fires, in particular, is very unusual."
The Department of Transportation currently uses social media to reach out to the public in the event of a road closure or serious accident.
But Schumann says there's a need to develop a broader communication strategy.
On Monday, he told Vanthuyne and other MLAs he's committed to working with colleagues, stakeholders and the public to develop a critical public safety communications plan for roads in the area.