The territory's justice department has released video footage of a sheriff officer grabbing a local reporter and shoving them out of Yellowknife's courthouse.
John McFadden was covering a 17-year-old girl's bail hearing in September 2013 when he says he was roughed up by one officer before another sheriff officer and a policeman helped place the veteran reporter in handcuffs.
RELATED: Reporter John McFadden found not guilty of obstruction
While video of the incident doesn't include audio, McFadden insists he was simply asking the sheriff for his supervisor's name before he was dragged out of the building.
"I got a very standoffish attitude from the sheriff who can be seen in the video throwing me out of the courthouse," McFadden told Moose FM.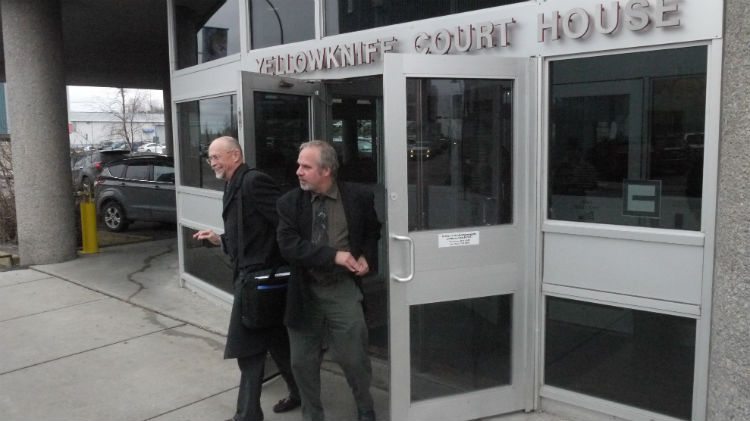 "I simply said, 'I'm going to need to speak with your boss. What's your supervisor's name?' The next thing I know he grabs me and I can hear my shirt ripping."
The altercation happened on September 17, 2013 when McFadden was trying to cover a bail hearing for a 17-year-old girl who had been charged with murder.
Halfway through the three-hour hearing, McFadden left the courtroom to go to the washroom. When he tried to go back in, he was told he couldn't.
"When I came back, [the sheriff] seemed to be more than happy to tell me that he'd given my seat away and that I couldn't come into the courtroom.
"This all happened very quickly and frankly I was more in shock than anything else. I got roughed up pretty good."
Video footage of the incident shows McFadden being pushed through two glass doors at the front of the building before being handcuffed on his stomach.
McFadden says he's lucky he didn't sustain any serious injuries. He was later paid $120 by the justice department to replace the pair of pants and shirt he was wearing at the time.
Even though the incident happened over three years ago, the veteran reporter – who was working for CJCD at the time – only learned of the video recently.
He then filed an access to information request to get a copy of it.
'Never happened to me prior'
McFadden has had a rocky relationship with the territory's justice department and RCMP since he moved to Yellowknife four years ago.
In April of last year, he was barred from an RCMP news conference for what police called a 'perceived bias' in his writing for the Yellowknifer.
Three months later, McFadden was charged with obstruction after taking pictures of police searching a vehicle downtown. A judge found him not guilty last month.
"This business of being thrown out of a courthouse, barred from a news conference and arrested for taking photographs of the RCMP … are three things that never happened to me prior," said McFadden.
Referencing the video specifically, he said: "The justice department seems to think that what the sheriff did was within his rights. There's nothing that I could've said or done that would justify the actions that they took.
"The court security in the south seem to be aware of the laws and I'm not sure that they are here."
In 30 years of covering courts, McFadden says he's never experienced anything like this before.
Justice department says matter was handled appropriately
The justice department has since defended the sheriff officer, saying he responded appropriately.
"Sheriff officers are responsible for ensuring the safety and efficient operation of the courts," read a statement issued by the department Monday.
"This, on rare occasion, requires the removal of persons who are being disruptive.
"The [department] investigated the circumstances around the incident depicted on the video tape and was satisfied that measures taken … were warranted and that the matter was handled appropriately."
McFadden says he'll take a 'wait-and-see' approach to determine his next move, though the justice department has said he's not entitled to anything above the $120 he's already received.