De Beers has explained more about what it believes should happen next at the Snap Lake diamond mine.
The company shut down operations at Snap Lake in December last year, claiming market conditions meant the NWT mine was no longer viable.
Background: Snap Lake closing indefinitely, mining stops
De Beers has now filed a "care and maintenance plan" with territorial regulators, outlining how it plans to close things down.
Below are some key points from that plan, which was published on Thursday.
---
1. De Beers believes Snap Lake could stay like this for three years or more.
De Beers thinks adverse market conditions could mean waiting until 2019 or beyond before we have a better idea of Snap Lake's long-term future.
"De Beers will continue to work closely with our stakeholders during this period to optimize an extended care and maintenance scenario to allow sufficient time to evaluate economic options and conditions for the Snap Lake Project," reads the report.
In other words, De Beers wants to buy as much time as possible to find a solution. However, keeping a mine in "care and maintenance" mode like this costs money – there is only so long any company could sustain it without a clear long-term plan.
2. There are three options for Snap Lake.
It may be stating the obvious, but De Beers repeatedly outlines three possible outcomes for the mine:
Reopening the mine. Though it's not specified in the plan, this could either be as a De Beers operation or after selling the mine to another operator.
If market conditions don't allow reopening the mine, the next option is making "care and maintenance" last as long as possible to keep other avenues open.
If all else fails, the third option is "final closure" of the mine – ending all operations there for good.
3. "Ramping down" of staff should be complete by April.
As reported in December when De Beers announced the suspension of mining, more than 400 people who worked at Snap Lake are losing their jobs.
In a timeline included with its plans, De Beers estimates all non-essential staff will have left by April 7, leaving behind a minimal team to oversee the care and maintenance phase.
4. There won't be many external contractors left.
Almost all workers left on-site after that "ramping down" is finished will be De Beers employees.
The only external contractors identified in a care and maintenance organizational chart included by De Beers are a handful of kitchen staff, a minimal housekeeping presence, powerhouse operators and a site medic.
5. Most of the buildings will be decommissioned.
Some of the facilities at Snap Lake need to remain functional while there are still staff keeping the mine in care and maintenance mode – things like water and sewage treatment, the power plant and heating systems.
But only one dormitory wing will be kept open. According to De Beers' timeline, other dormitories were decommissioned in December to save on costs and are being blocked off.
6. Trespassers are a concern.
The Snap Lake mine is around 220 km north-east of Yellowknife, so aspiring vandals would have to be relatively committed to the task – but De Beers still has to take security at the site seriously as operations wind down.
Security staff will remain on-site, and at least 10 members of an emergency response team will be present at any one time. Warning signs will stay in place and disused buildings will be "secured against vandalism".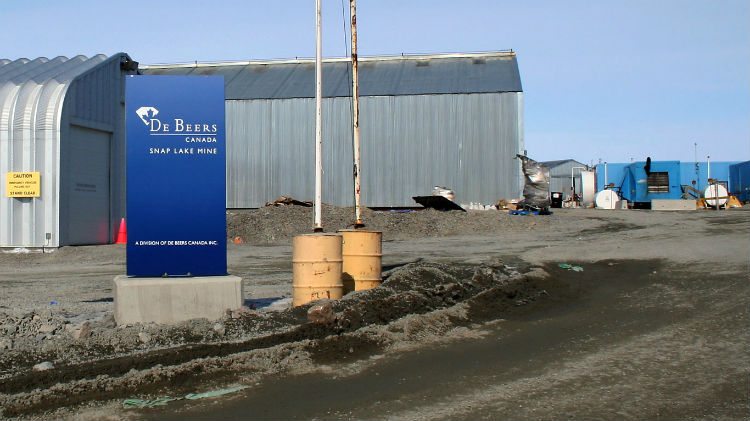 7. The airstrip and the winter road will stay open.
In fact, the road is likely to be fairly busy.
De Beers' plans suggest there will be a "major backhaul", presumably of equipment and other assets, during February and March this year.
8. Nothing should change when it comes to environmental monitoring.
De Beers notes that its regulatory commitments remain unchanged in this area, despite its decision to suspend mining.
"The required surveillance monitoring and reporting during the care and maintenance period will be the same as the required monitoring procedures completed during operations," reads the plan, "as required by the current Water License, Fisheries Authorization, Land Use Permits, and Environmental Agreement."
9. De Beers could flood the mine in future.
Snap Lake is an underground mine – indeed, the technical challenges of mining beneath a lake have been part of the issue with turning a profit.
It could end up being a better option, in future, to let the underground portions of Snap Lake flood.
"In 2016, De Beers intends to conduct additional technical and economic evaluations exploring a partially and fully flooded underground mine," says the plan.
10. "Steady state" care and maintenance is forecast to start in July.
To be precise: July 11, 2016, is the date on which De Beers expects to have completed all the tasks associated with suspending mining.
Those tasks range from cleaning up some areas of the site to either shipping out remaining explosives – or detonating them in controlled underground blasts.
By July 11, the company plans to have everything mothballed and the bare minimum in care and maintenance staffing.
After that, the future of Snap Lake is unclear.
In full: Snap Lake care and maintenance plan, January 2016 (pdf)