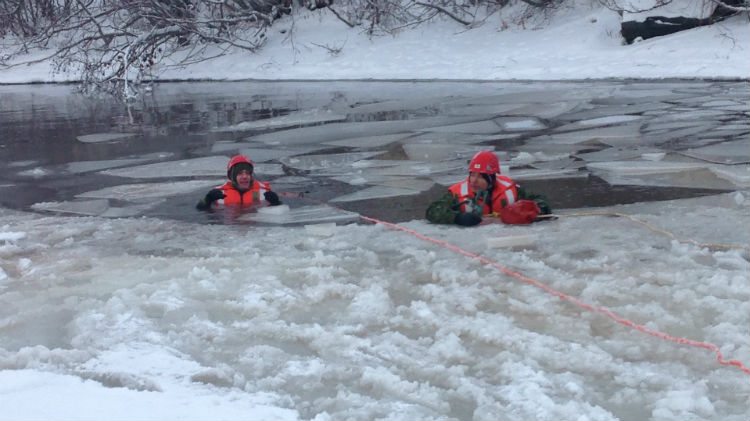 Members of the First Canadian Ranger Patrol Group and Arctic Response have spent the last two days conducting ice rescue exercises on a frozen Jackfish Lake.
The two-day training program took place on Monday and Tuesday and consisted of both classroom and field training.
The field portion involved members taking part in authentic through-the-ice drills and recovery scenarios in frigid waters.
A total of three stations were set up on Jackfish Lake Tuesday morning and afternoon.
The first involved members suiting up in a buoyant and insulated 'ice commander suit' to get used to swimming around in frigid waters. The suit is often used during extraction operations.
The second station challenged members to extract someone who had fallen into the lake using a rope, ice screw, carabiner and pulley system.
This was designed to teach members how to extract someone using a mechanical advantage in lieu of manpower.
And the final station, and perhaps most challenging, involved members taking part in an 'unprotected swim', where they would jump into the water with limited gear on to simulate what happens if you go through the ice suddenly.
"This is part of our annual winter standardization training," said Capt. Chris Carthew with the First Canadian Ranger Patrol Group.
"As a headquarters we work very closely with Rangers across the North."
Carthew says 80 to 90 percent of Ranger activity takes place on water, whether it be frozen or not.
He says it's important for members to be well-prepared and knowledgeable when it comes to water and ice safety.
"The idea here is to condition people and get them over the psychological fear of your body's first reaction when it is first submerged in water," he said.
"We're trying to encourage people to overcome that initial cold-shock response by controlling their breathing and then trying to extract themselves under their own muscle power."
Before taking part in Tuesday's unprotected swim, Carthew explained what happens to the human body when it's initially exposed to freezing temperatures.
"It's a shock," he said. "Your body just automatically goes into a kind of gasping cycle.
"Imagine stepping into a shower without expecting it and then multiply that by 100 and that's somewhat close to what it's like.
"The biggest thing to understand is that just because you've fallen into the water, that does not mean that you're going to drown or freeze to death.
"The body is quite well insulated with fat and muscle. It takes a while for your core body temperature to actually drop down.
"The best thing we try to tell people is to control their breathing, get the urge to panic under control and you still have lots of time to orient yourself and figure out what to do."
This week's training program is one of hundreds carried out by members of the First Canadian Ranger Patrol Group every year.