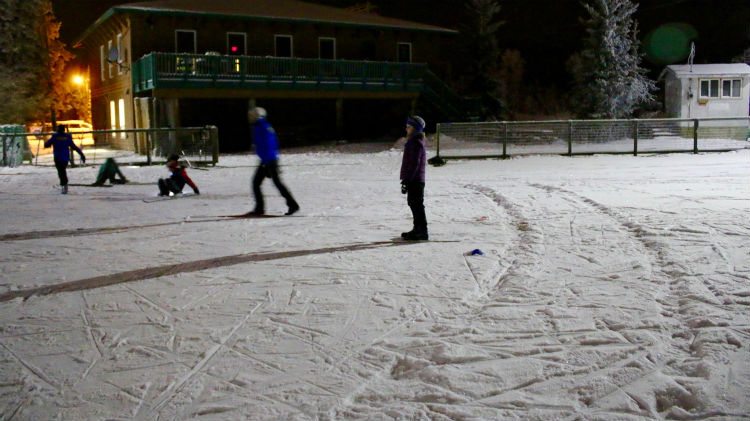 The Yellowknife Ski Club has expressed disappointment after its trails were vandalized by a joyrider this week.
The incident happened sometime overnight, and could end up being a real setback for the group if the area doesn't get more snow anytime soon.
There's also some concern that ruts created by the vehicle's tires could result in hazardous skiing conditions for regular trail users.
"Somebody drove what is likely a four-wheel drive truck or jeep through some obstructions that were set up to try and prevent that from happening," said Chris Joseph, director of trails with the Yellowknife Ski Club.
"They maneuvered around past the chalet and vandalized our ski trails by driving off-road through the trails."
Because the ski club is entirely volunteer-based, Joseph can't understand why anyone would go out of their way to damage their property.
"We spend a lot of time grooming and maintaining these trails to get the surface good for our skiers.
"To vandalize our trails like this really undermines what the club is here for, which is to create opportunities for kids and adults to enjoy the outdoors in Yellowknife.
"To rip it up like this, creates a hazard and undermines a lot of the work we've done here.
"It's a real setback for us in the season. Yellowknife doesn't get a lot of snow so the wonderful snow that we've had so far is a precious commodity for us."
Joseph couldn't put the damage into monetary terms, but says volunteer groomers spend two to three nights a week maintaining tracks for users.
And now, some of that work has been ruined.
"These ruts really set us back about three or four weeks and it's hard to put money on that but in time, in terms of the season, that's a huge setback.
"When this kind of thing happens, it's a real disappointment and it's an emotional pain for a lot of the people who have put their time in."
The ski club hasn't ruled out the idea of installing surveillance equipment to prevent incidents like this from happening again, though Joseph admits that could prove difficult for a group of volunteers.